They Might Be Giants perform on Fallon, Wednesday.
Last I checked, it was still Summer, but the talkies are back in full force with a full stable of music artists on tap this week.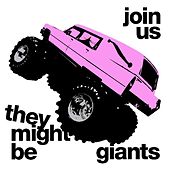 Late Night with Jimmy Fallon
has two legends in The Kinks' Ray Davies (Monday) and Ben E. King (Thursday), and two Brooklyn based indie rock duos with Matt & Kim (Tuesdasy) and blog (and kids of blog) fave They Might Be Giants (Wednesday). TMBG just returned with another "adult" album (
Join Us
) which differs from the kids only slightly in subject and theme. Since those concepts mean little to my littles, it's all the same to them.
Elsewhere, look to Fallon's forebearer
Letterman
for some quality acts this week as well, as he has Eels (Tuesday), Anna Calvi (Wednesday), and Fountains of Wayne (Thursday) who have a new album dropping next week entitled
Sky Full Of Holes
.
In the 'look back in wonder' department, morning talkies on Friday have the duo of Debbie Gibson and Tiffany (
Good Morning America
) along with the Steve Perry-less Journey (
Today Show
).
Picks for the week
Monday, July 25
ABC:
Jimmy Kimmel Live
:
Big Talk
CBS:
Late Show With David Letterman
:
Tim Robbins & the Rogues Gallery Band
NBC:
The Tonight Show with Jay Leno
:
Gomez
NBC:
Late Night With Jimmy Fallon
:
Ray Davies
NBC:
Last Call With Carson Daly
:
Hugo
,
The Greenhornes
TBS:
Conan
:
K.T. Tunstall
Tuesday, July 26
ABC:
The View
:
Tim Robbins & the Rogues Gallery Band
ABC:
Jimmy Kimmel Live
:
The Features
CBS:
Late Show With David Letterman
:
Eels
NBC:
The Tonight Show with Jay Leno
:
Train
NBC:
Late Night With Jimmy Fallon
:
Matt & Kim
NBC:
Last Call With Carson Daly
:
Sarah Lee Guthrie & Johnny Irion
SYNDICATION:
Live With Regis and Kelly
:
Ray Davies
TBS:
Conan
:
Steve Byrne
Wednesday, July 27
CBS:
Late Show With David Letterman
:
Anna Calvi
NBC:
Late Night With Jimmy Fallon
:
They Might Be Giants
NBC:
Last Call With Carson Daly
:
Grace Potter
,
School of Seven Bells
SYNDICATION:
Live With Regis and Kelly
:
OneRepublic
TBS:
Lopez Tonight
:
Shaggy
TBS:
Conan
:
Funeral Party
Thursday, July 28
ABC:
Jimmy Kimmel Live
:
Lady Gaga
CBS:
Late Show With David Letterman
:
Fountains of Wayne
NBC:
The Tonight Show with Jay Leno
:
Stevie Nicks
NBC:
Late Night With Jimmy Fallon
:
Ben E. King
NBC:
Last Call With Carson Daly
:
The Black Angels
(REPEAT)
SYNDICATION:
Live With Regis and Kelly
:
3 Doors Down
Friday, July 29
ABC:
Good Morning America
:
Debbie Gibson
and
Tiffany
NBC:
The Today Show
:
Journey
NBC:
Late Night With Jimmy Fallon
:
Big Sean
NBC:
Last Call With Carson Daly
:
Soundtrack of Our Lives
(REPEAT)
Saturday, July 30
BBCAMERICA:
The Graham Norton Show
:
Cee Lo Green
NBC:
Saturday Night Live
:
Kings of Leon
(REPEAT)
PBS:
Austin City Limits
:
Elvis Costello
,
Band of Heathens
(REPEAT)