tUnE-yArDs play Late Night with Jimmy Fallon on Monday.
It's been quite a year so far for tUne-yArDs' Merrill Garbus. Since releasing her second album
W H O K I L L
back in April, Garbus has been touring nearly non-stop, most recently wowing audiences at Pitchfork Music Festival.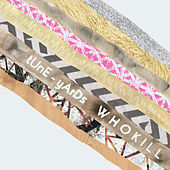 Her live sets are all the talk thanks to her complex building of each song, with drums, ukylele, guitar, and especially her voice -- all looped and housed in an Afro-pop rhythmic base. Garbus unique voice will move between a sweet R&B croon to a raspy whelp in a heartbeat, like a woman possessed, with her music partner and bassist Nate Brenner helping keep the train on the tracks. Before she plays
Late Night with Jimmy Fallon
Monday night, you just know there'll have to be a tweet of amazement from ?uestLove.
Picks for the week
Monday, August 1
ABC:
The View
:
Lady Gaga
ABC:
Jimmy Kimmel Live
:
Jake Shimabukuro
NBC:
The Tonight Show with Jay Leno
:
Sheryl Crow
,
Matt Nathanson
NBC:
Late Night With Jimmy Fallon
:
tUnE-yArDs
NBC:
Last Call With Carson Daly
:
Charles Bradley
(REPEAT)
TBS:
Lopez Tonight
:
Colbie Caillat
TBS:
Conan
:
Pitbull
Tuesday, August 2
ABC:
The View
:
Debbie Gibson
,
Tiffany
CBS:
Late Show With David Letterman
:
Explosions in the Sky
NBC:
The Tonight Show with Jay Leno
:
Mat Kearney
NBC:
Late Night With Jimmy Fallon
:
Sergio Mendes
NBC:
Last Call With Carson Daly
:
Mini Mansions
(REPEAT)
TBS:
Lopez Tonight
:
2cellos
TBS:
Conan
:
Seether
Wednesday, August 3
CBS:
Late Show With David Letterman
:
Blink 182
NBC:
Late Night With Jimmy Fallon
:
Big Audio Dynamite
NBC:
Last Call With Carson Daly
:
Yelawolf
(REPEAT)
Thursday, August 4
CBS:
Late Show With David Letterman
:
Typhoon
NBC:
The Tonight Show with Jay Leno
:
Lykke Li
NBC:
Late Night With Jimmy Fallon
:
Fountains of Wayne
,
Bruce Hornsby
NBC:
Last Call With Carson Daly
:
Matt & Kim
,
Screaming Females
(REPEAT)
Friday, August 5
ABC:
Good Morning America
:
Nicki Minaj
ABC:
The View
:
Allison Krauss
NBC:
The Tonight Show with Jay Leno
:
Rye Rye
with
Robyn
NBC:
Late Night With Jimmy Fallon
:
Voca People
NBC:
Last Call With Carson Daly
:
Fitz & the Tantrums
(REPEAT)
Saturday, August 6
NBC:
Saturday Night Live
:
Paul Simon
(REPEAT)
PBS:
Austin City Limits
:
Ben Harper & Relentless7
(REPEAT)