M83 performs on Late Night with Jimmy Fallon on Monday, November 21.
It's a short week, so we can give thanks while gorging on large flightless birds and watching overgrown men wearing protective padding run into each other. As such, the talk show listings are short and sweet.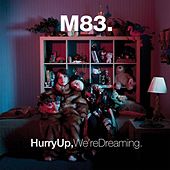 The sweetest this week is M83 making an appearance on
Late Night with Jimmy Fallon
(Monday). Frenchman Anthony Gonzalez has crafted album after album of tributes to his childhood, and his latest,
Hurry Up, We're Dreaming
, is his pièce de résistance. Serving almost as an almalgamation of all his previous releases,
HUWD
is bigger, no
grander
, reaching for big moments in every song. His live shows have wowed audiences across the country and so there are expectations for him to push boundaries of the 'small screen.'
Enjoy your turkey, jive humans, and maybe I'll see you later in the week.
Picks for the week
Monday, November 21
CBS:
Late Show With David Letterman
:
Needtobreathe
NBC:
Late Night With Jimmy Fallon
:
M83
, Greg Phillinganes (
Stevie Wonder
,
Toto
) sits in with
The Roots
NBC:
Last Call With Carson Daly
:
The Joy Formidable
(REPEAT)
TBS:
Conan
:
Reggie Watts
(REPEAT)
Tuesday, November 22
NBC:
The Tonight Show with Jay Leno
:
Hot Chelle Rae
NBC:
Late Night With Jimmy Fallon
:
B.o.B.
NBC:
Last Call With Carson Daly
:
Portugal. The Man
,
Butch Vig
(REPEAT)
TBS:
Conan
:
Cobra Starship
featuring Sabi (REPEAT)
Wednesday, November 23
ABC:
Jimmy Kimmel Live
:
Miranda Lambert
(REPEAT)
NBC:
Last Call With Carson Daly
:
The Kills
,
Justin Townes Earle
(REPEAT)
TBS:
Conan
:
Paul Simon
(REPEAT)
Thursday, November 24
ABC:
A Very Gaga Thanksgiving
:
Lady Gaga
ABC:
Jimmy Kimmel Live
:
Feist
(REPEAT)
CBS:
Late Show With David Letterman
:
St. Vincent
(REPEAT)
NBC:
Last Call With Carson Daly
:
Foster the People
(REPEAT)
TBS:
Conan
:
Louis CK
(REPEAT)
Friday, November 25
ABC:
Jimmy Kimmel Live
:
Chris Isaak
(REPEAT)
NBC:
The Tonight Show with Jay Leno
:
Gym Class Heroes
featuring
Estelle
NBC:
Last Call With Carson Daly
:
The Airborne Toxic Event
(REPEAT)
Saturday, November 26
PBS:
Austin City Limits
:
Monsters of Folk
(REPEAT)