St. Vincent and David Byrne perform on Late Night With Jimmy Fallon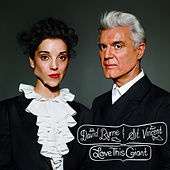 Three years in the making, the long awaited collaboration between David Byrne and Annie Clark of St. Vincent finally sees the light of day this week.
Love This Giant
sees Byrne most energized, and there are lots and lots of horns, which are a highlight even as they come at the cost of Clark's exquisite guitar work, which gets drowned out in the brassness of the proceedings.
Elsewhere,
Saturday Night Live
returns for its 38th season, and even though it will be without stars Kristin Wiig and Andy Samberg, there's still a lot of excitement for the season premiere this Saturday. At least some of that has to do with Frank Ocean as the musical guest.
Other required viewings: The Avett Brothers on
Kimmel
(Monday), Grizzly Bear on
Fallon
(Friday).
Picks for the week
Monday, September 10
ABC:
Jimmy Kimmel Live
:
The Avett Brothers
NBC:
The Tonight Show with Jay Leno
:
Dwight Yoakam
(REPEAT)
NBC:
Late Night With Jimmy Fallon
:
David Byrne & St. Vincent
NBC:
Last Call With Carson Daly
:
The Ting Tings
(REPEAT)
SYNDICATION:
Katie
:
Sheryl Crow
TBS:
Conan
:
The Head and the Heart
Tuesday, September 11
ABC:
Jimmy Kimmel Live
:
Rita Ora
CBS:
Late Show With David Letterman
:
Jeff the Brotherhood
(REPEAT)
NBC:
The Tonight Show with Jay Leno
:
Emil Sande
(REPEAT)
NBC:
Late Night With Jimmy Fallon
:
Cat Power
NBC:
Last Call With Carson Daly
:
Thee Oh Sees
(REPEAT)
Wednesday, September 12
CBS:
Late Show With David Letterman
:
Hacienda
(REPEAT)
NBC:
The Tonight Show with Jay Leno
:
Regina Spektor
(REPEAT)
NBC:
Late Night With Jimmy Fallon
:
Florence & the Machine
NBC:
Last Call With Carson Daly
:
Wallpaper
(REPEAT)
TBS:
Conan
:
The Hives
Thursday, September 13
NBC:
The Tonight Show with Jay Leno
:
Norah Jones
(REPEAT)
NBC:
Last Call With Carson Daly
:
Father John Misty
(REPEAT)
TBS:
Conan
:
The Walkmen
Friday, September 14
NBC:
The Tonight Show with Jay Leno
:
Grace Potter
(REPEAT)
NBC:
Late Night With Jimmy Fallon
:
Grizzly Bear
NBC:
Last Call With Carson Daly
:
Dr. Dog
(REPEAT)
Saturday, September 15
NBC:
Saturday Night Live
:
Frank Ocean
PBS:
Austin City Limits
:
Wilco
(REPEAT)
Sunday, September 16
AXS:
AXS Concert Series
:
Dashboard Confessional
/
Fall Out Boy