Okkervil River play Letterman on Friday, May 13.
After taking a year off to back and collaborate with the legendary Roky Erickson, Okkervil River is thankfully back with a new album of literate Americana --
I Am Very Far
, out Tuesday.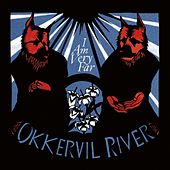 As is usually the case, Will Scheff's printed lyrics are as big of a draw as the delivered music, with his finely tuned dark tales full of wit and subtext. But with
I Am Very Far
, there's a sense that the band is perhaps trying to move beyond cult status, and from the opening echoed beat of "The Valley," the album sounds like it could attract more than the current Okkervil stable of fans. There's a bit of the histrionics that propelled Arcade Fire to the next level, and the occasional nod to classic Talking Heads as well, to go with the usual Americana leanings. The Texas outfit takes the stage on
Letterman
on Friday, May 13.
Meanwhile, it's been 30 years since Reggae giant Bob Marley died, and to pay tribute to the legend,
Late Night with Jimmy Fallon
is hosting artists performing Marley classics all week.* The week fittingly starts off with famous son Ziggy Marley on Monday, and moves on to Chris Cornell, Jennifer Hudson, Jakob Dylan and Lenny Kravitz on successive nights. Ziggy plans to sit with Fallon himself, to talk a bit about his father's legacy on Monday, and there's a good chance a few reggae musicians associated with the Marley legacy will be sitting in with
The Roots
all week long. You don't want to miss it, mon.
*
It's becoming a tradition the talk show started last year with a tribute to The Rolling Stones'
Exile on Main Street
, in celebration of the great album's reissue
.
Picks for the week
Monday, May 9
ABC:
Good Morning America
:
Donny & Marie Osmond
ABC:
The View
:
Donny & Marie Osmond
ABC:
Jimmy Kimmel Live
:
Wiz Khalifa
COMEDY CENTRAL:
The Colbert Report
:
Lupe Fiasco
FUEL:
The Daily Habit
:
The Go! Team
NBC:
Late Night With Jimmy Fallon
:
Ziggy Marley
NBC:
Last Call With Carson Daly
:
Soundtrack of Our Lives
PBS:
American Experience: Soundtrack for a Revolution
:
John Legend
,
Joss Stone
,
Wyclef Jean
,
The Roots
,
Harry Belafonte
TBS:
Lopez Tonight
:
Jonny Lang
TBS:
Conan
:
Amos Lee
Tuesday, May 10
ABC:
Jimmy Kimmel Live
:
Calle 13
CBS:
Late Show With David Letterman
:
Hugo
FUEL:
The Daily Habit
:
The Go! Team
NBC:
The Tonight Show with Jay Leno
:
Def Leppard
NBC:
Late Night With Jimmy Fallon
:
Chris Cornell
NBC:
Last Call With Carson Daly
:
The Knux
SYNDICATION:
The Ellen DeGeneres Show
:
Stevie Nicks
Wednesday, May 11
ABC:
Jimmy Kimmel Live
:
Zac Brown Band
CBS:
Late Show With David Letterman
:
Ray Lamontagne
FUEL:
The Daily Habit
:
New Boyz
CBS:
Late Late Show With Craig Ferguson
:
Colin Hay
NBC:
The Tonight Show with Jay Leno
:
Steve Earle
NBC:
Late Night With Jimmy Fallon
:
Jennifer Hudson
NBC:
Last Call With Carson Daly
:
Grouplove
TBS:
Lopez Tonight
:
Musiq Soulchild
TBS:
Conan
:
Ke$ha
Thursday, May 12
ABC:
Jimmy Kimmel Live
:
Raphael Saadiq
CBS:
Late Show With David Letterman
:
Manchester Orchestra
FUEL:
The Daily Habit
:
The Naked and Famous
NBC:
Late Night With Jimmy Fallon
:
Jacob Dylan
NBC:
Last Call With Carson Daly
:
The Greenhornes
,
Hugo
TBS:
Lopez Tonight
:
Def Leppard
Friday, May 13
CBS:
Late Show With David Letterman
:
Okkervil River
FUEL:
The Daily Habit
:
New Boyz
NBC:
The Tonight Show with Jay Leno
:
Rodrigo Y Gabriela
NBC:
Late Night With Jimmy Fallon
:
Lenny Kravitz
NBC:
Last Call With Carson Daly
:
Rhaphael Saadiq
Saturday, May 14
BBCAMERICA:
The Graham Norton Show
:
k.d. lang
NBC:
Saturday Night Live
:
Paul Simon
PBS:
Austin City Limits
:
John Legend & The Roots