Foo Fighters play the 2011 MTV Movie Awards
In the land of the blind, the one-eyed man is King. Not to say the
Foo Fighters
are metaphorically one-eyed, but their scheduled live performance at the
2011 MTV Movie Awards
is not the norm for this column. Having seen them perform again just this past Friday night at Sasquatch! (I took the photo above from it), I can say that the Foos are unapologetic
pros
at this live music thing. Dave Grohl has this thing down pat.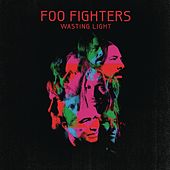 Their latest release,
Wasting Light
is a surprising in that it's a return to their nearly great early recordings. I say "nearly" because I've mostly just appreciated their recordings. Live, though... Grohl and co. can seemingly do no wrong. So, take that to the bank, or something.
Elsewhere,
My Morning Jacket
has a couple appearances this week on smaller screens, the first being a special live stream
Unstaged
performance in their Kentucky home town of Louisville, directed by Todd Haynes (
I'm Not There
,
Velvet Goldmine
, the recent HBO mini-series
Mildred Pierce
). The other small screen appearance, and this would've been the lede story if I'd been aware sooner, is on VH1's
Storytellers
, which premieres on Friday, June 3. The performance is heavy on the new album,
Circuital
, released this week, but also features some old classics as well.
Picks for the week
Monday, May 30
ABC:
Jimmy Kimmel Live
:
Rammstein
(REPEAT)
CBS:
Late Show With David Letterman
:
Wynton Marsalis
(REPEAT)
FUEL:
The Daily Habit
:
Game
NBC:
The Tonight Show with Jay Leno
:
Sergio Mendes
with
Siedah Garrett
(REPEAT)
NBC:
Late Night With Jimmy Fallon
:
Twisted Sister
(REPEAT)
NBC:
Last Call With Carson Daly
:
Death
(REPEAT)
TBS:
Conan
:
FaR*eAst Movement
(REPEAT)
Tuesday, May 31
ABC:
Jimmy Kimmel Live
:
I See Stars
CBS:
Late Show With David Letterman
:
Emmylou Harris
(REPEAT)
FUEL:
The Daily Habit
:
Friendly Fires
NBC:
Last Call With Carson Daly
:
The Morning Benders
(REPEAT)
Wednesday, June 1
CBS:
Late Show With David Letterman
:
Brother
(REPEAT)
FUEL:
The Daily Habit
:
Tinnie Tempah
NBC:
The Tonight Show with Jay Leno
:
The Civil Wars
(REPEAT)
NBC:
Late Night With Jimmy Fallon
:
Twin Shadow
(REPEAT)
NBC:
Last Call With Carson Daly
:
Ted Leo
,
The Greenhornes
(REPEAT)
PBS:
American Masters: James Levine
:
James Levine
,
Placido Domingo
TBS:
Conan
:
Teddy Thompson
(REPEAT)
Thursday, June 2
ABC:
Jimmy Kimmel Live
:
Lykke Li
CBS:
Late Show With David Letterman
:
The Twilight Singers
(REPEAT)
FUEL:
The Daily Habit
:
Hanni El Khatib
NBC:
The Tonight Show with Jay Leno
:
Iron & Wine
(REPEAT)
NBC:
Last Call With Carson Daly
:
The Soundtrack of Our Lives
,
Oh Land
(REPEAT)
TBS:
Lopez Tonight
:
Panic! at the Disco
(REPEAT)
TBS:
Conan
:
Panic! at the Disco
(REPEAT)
Friday, June 3
CBS:
Late Show With David Letterman
:
Wiz Khalifa
(REPEAT)
FUEL:
The Daily Habit
:
Friendly Fires
NBC:
The Tonight Show with Jay Leno
:
The Airborne Toxic Even
(REPEAT)
NBC:
Late Night With Jimmy Fallon
:
Lenny Kravitz
(REPEAT)
NBC:
Last Call With Carson Daly
:
Foster the People
(REPEAT)
VH1:
Storytellers
:
My Morning Jacket
Saturday, June 4
PBS:
Austin City Limits
:
Esperanza Spalding
,
Madeleine Peyroux
Sunday, June 5
MTV:
2011 MTV Movie Awards
:
Foo Fighters
,
Lupe Fiasco
with
Trey Songz