Reunited!
So,
as I've mentioned before
, your faithful Drake is adopted and recently was reunited with his birth mother. This past weekend I also got to meet another half-brother (Terry) and my birth mother's parents (birth grandparents?)
Bro's even wearing the same color shirts!
It was an interesting, laid-back affair complete with chicken wings and macaroni salad. Got some more insight from my grandparents in the form of a typed description of their family history, reworked from a recent family reunion submission.
Finally got to see myself a bit in a relative. My birth mother showed me some pictures of her when she was young, and the resemblence is obvious when looked at with some of my childhood photos.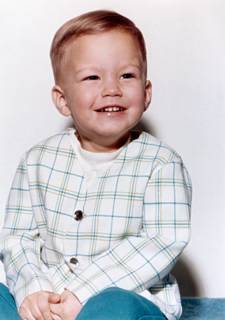 Drake age 3
Birth mother, age 5