Novel Soundtracks:

Can't Stop Won't Stop - A History of the Hip-Hop Generation

Broken into 4 parts (Loops)
Playlist:
Loop 3

The Message 1984-1992
When kids have no father image, who filfulls that role? The drug dealer in the neighborhood? Motherfu*king Michael Jordan? Rappers come along and say, 'This is everything you want ot be. You want to be like me, I'm your peer, and I talk to you every day.' So the kid is being raised by LL Cool J, because LL is talking to the kid more directly than his parents ever did.


-Chuck D
Part 3 of
Jeff Chang
's excellent book
Can't Stop, Won't Stop: History of the Hip Hop Generation
, which explores the intellectual roots, political movements, and society's ills in the formation of a full-fledged culture that is
hip-hop
. This following is no substitute for the book, and I highly recommend it. (
Click here for Loop 1
and
here for Loop 2
.)
Rap proved to be the ideal form to sell hip-hop, and crews got smaller, records got shorter and began being tailored to pop-song structures. The direction of innovative rap, however, stopped being about having fun and started to get serious. The role of the DJ began to recede and the role of the producer rose thanks to sampling tools. The sound had already moved out of the Bronx with
Run DMC
and
Russell Simmons
home-owning land of Queens and was even moving to the suburbs, into
Rick Rubin
's ol' hood:
Long Island
.
When young
Carlton Ridenhour
first heard "Rapper's Delight" he knew that was for him. He took up the name
Chuck D.
and joined up with Spectrum City, run by Hank "Shocklee" Boxley (the
Afrika Bambaataa
of Long Island.) People first really noticed Chuck D's promise with "Check Out the Radio," a b-side to "Lies" a Spectrum City single.
Bill Stephney, also a Long Island resident, spotted Chuck D. in his Spectrum City jacket on the campus of Adelphi and talked him and Hank into doing a Saturday night rap show, called the "Super spectrum Mix Hour." Stephney was hired on at DefJam as their first full-time staffer, with a vision of taking rap full-on to the suburbs. He then proceeded to push his radio friends to play Run DMC's cover of "Walk This Way," when all research showed it wouldn't play. By the end of '86 he'd done an end-around: Run DMC had crossed over to white audiences, and The Beastie Boys had crossed over to black audiences. Stephney also believed their was a place for a rap group that was equal parts Run DMC and The Clash... he wanted a rap
Sandanista!
Meanwhile, Rubin was pestering Chuck until Stephney got him to finally came in for a meeting and based on a demo was signed to DefJam. Chuck didn't want to go it alone, so he negotiated Hank and DJ MC Flavor into the deal. Richard Griffin provided the security for Spectrum City and in the new model, became
Profressor Griff
and his security team renamed the
Security of the First World (S1W's.)
Hank assembled the musical team with Spectrum City DJ Norman Rogers, who became "
Terminator X
." He and a collection of a few others became known as
the Bomb Squad
. They then changed their name to
Public Enemy
, reborn with a political slant, influenced by artists like
Gil Scott-Heron
,
The Last Poets
and
H. Rap Brown
; the speeches of
Louis Farrakhan
and
Jesse Jackson
; and recent events like the
Howard Beach incident
,
vigilante Bernhard Goetz
and the
fatal police beating of graffiti artist Michael Stewart
.
Their first album,
Yo! Bum Rush the Show
(1987,) found Chuck D frustrated that white critics didn't vibe with his pro-Black stance while Black radio remained indifferent to their music and message. A series of interviews Chuck D. lambasted both White
and
Black Amercia. As Chuck D. put it, "our interviews were better than most people's shows." The record wasn't even close to sales of label mates
Run DMC
,
The Beastie Boys
and
LL Cool J
. New school acts like
MC Shan
,
Biz Markie
,
De La Soul
and
EPMD
were sprouting up and doing well, making it look like PE might not be able to compete. One act in particular, though, hit PE the hardest...
It was another act from Queens that took PE by surprise. Founded by DJ Eric Barrier (Eric B.) and rapper
William Griffin (Rakim,)
Eric B. and Rakim
debuted their album
Paid In Full
, and it was a critical masterpiece. Still considered today as one the greatest rap albums ever recorded,
Paid in Full
explored both the braggodocio of the day, but also a self-consciousness that rap hadn't seen before. As writer Greg Tate wrote, "Chuck D's forte is the overview, Rakim's is the innerview." When "I Know You Got Soul" was dropped, Chuck and Hank heard it and knew where they had to go.
"I got soul too," rapped Chuck D. on "Rebel Without a Pause," both recognizing Rakim's rhyme and signaling it out. He and PE had just raised the bar, and "Rebel" heated up the clubs like a boiling kettle squeal, with fights even breaking out in response to it's riot call. Within two months of it's release,
It Takes a Nation of Millions to Hold Us Back
had sold two-million copies and had probably set off just as many debates. One of those debates was over whether rappers should be held to revolutionary standards as leaders, which was a sign of the troubled state of post-Civil Rights leadership.
One individual that found himself in the same boat as PE, was
Spike Lee
. His film,
Do the Right Thing
(
1989
,) sparked a lot of controversey with it's racial battle in
Bed-Stuy
between Radio Raheem, Korean grocers, and an Italian pizzaria. At the heart of the battle was a song from Public Enemy - "Fight the Power." The video for the song, directed by Lee, was in the style of a Black power march, starting with footage from 1963's
March on Washington
, then flashing forward with Chuck D saying "
1989
! The number, another summer." One lyric in the song had Chuck D. ready for controversey ("Fu*k him [Elvis] and John Wayne,") but a series of
Professor Griff
interviews that were sprinkled with
anti-semitic
remarks had Chuck D. on a different defense. It was a PR fire that burned out of control and initially led to Griff's removal from spokesperson duties, and then finally from Public Enemy entirely, complete with apology from Chuck D. "
Welcome to the Terrordome
" had D rapping "Crucifixion ain't no fiction, so-called chosen frozen, apologies made to whoever please, still they got me like Jesus" which had many calling it anti-semetic as well, even w/o Griff in the mix.
South Central Los Angeles
had a similar situation to South Bronx, both socially and economically. In the 1920s, as the Black population of LA was growing, the neighborhood
Watts
became predominantly Black, so to avoid having a black mayor, LA quickly annexed Watts. When
WWII
happened, migrants moved into the neighborhood in droves and Watts was busting at the seems and strapped for services to handle the strain, and one of the results was the first race riots (
Zoot Suit riots
) in 1943. The conditions continued to get worse, and by late summer in 1965, it overflowed into the
Watts riots
, where Watts found their gangs dropping their rivalries and fighting together against the police. When the Black Panthers were brought down in 1969,
Raymond Washington
filled the void and created the Baby Avenues, which eventually became the "
Crips
." In 1973, when beefs between gangs turned bloody, several of Crips rivals merged to form one conglomeration called
the Bloods
. During the Reagan years, Firestone, Goodyear and GM all closed their manufacturing plants in South Central. 131 plants in all, affecting 124,000 people unemployed and by 1983 South Central's unemployment rate was at least 50% for youths, and the poverty level there was up over 30%. In 1988,
Police Chief Daryl Gates
started
Operation Hammer
, his war on gangs, where they'd demolish apartment buildings based on rumors, leaving hordes of innocent people homeless. It was these circumstances that weighed heavily on the music scene in L.A.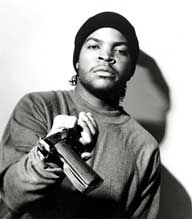 In
Compton
(South Central LA,) young O'Shea Jackson had been rapping in a group called C.I.A. (Criminals in Action) under the name
Ice Cube
, dropping sex rhymes to shocked and delighted crowds. Eric Wright, a 23-year old drug dealer, saw hip-hop growing in South Central and saw a way to get cash legit. He got Andre "
Dr. Dre
" Young, Antoine "
Dj Yella
" and Jackson together for a collaboration. One night, in 1987, Young and Wright were in the studio with an
East Coast group
(HBO) that Dre had found, thinking that NY-style would go over well in
South Central
. Ice Cube had written some lyrics for one song, and HBO refused to do it and walked out, so Wright stepped in, took the name
Eazy E
and they recorded "Boyz-N-The Hood." It was released as a single for Eazy E, and it became the stuff of legends. Emboldened they finished an album under Easy E's name and then put the all-star rap group together E called it
Niggaz With Attitude
(
N.W.A.
,) an intense image that they tried to uphold.
Straight Outta Compton
was released in 1989 and went gold in six weeks (it eventually went double platinum.) Radio wouldn't touch it, Priority records didn't promote it, and MTV banned their video for the title track, but it sold anyway, which signaled a change in how albums reached the public. It put both
West Coast Hip-Hop
and
Gansta Rap
on the map. The song "
Fu*k da Police
" earned a letter from the FBI, and the ire of law enforcement wherever they played. Boycotts were formed at every level, but it still broke through, and found it's way into the white suburbs, which began a sort war on youth culture. Coupled with the war on gangs, crime legislation went overboard with
three strikes out
,
mandatory sentences
,
prison expansion
, and more cops.
Ice Cube, inspired by Public Enemy releases, took off to the East Coast to work on his solo album, and enlisted the help of the
Bomb Squad
(who had just wrapped up PE's
Fear of a Black Planet
, 1990) for the recording. Cube took his black teen rebellion and infused it with Chuck and the
S1W's
Black nationalism for his
Amerikkka's Most Wanted
(1990) album. His raps still talked about living in the ghetto, but instead of glorifying it now the raps were meant to condemn society for letting ghetto despair occur. Excited about his solo career, Cube went back to work immediately on a follow-up.
Death Certificate
(1991,) which made platinum before it was even released (advance sales,) and was even harder and angrier than his debut, and it immediately struck both positive and negative chords in society. Boycotts appeared immediately from the
Simon Wiesenthal
Center
(for the song "No Vaseline") and from the
Korean American Coalition
. The KAC's beef was with the song "Black Korea," which came at a bad time for the Korean-Black relations, after
a Korean storekeeper shot and killed a black woman
trying to buy some Orange Juice. The Korean American Grocer's Association (KAGRO) joined in and hit Cube where it hurt - his endorsement deal with St. Ides. KAGRO demanded that they drop Cube and when they didn't, they stopped St. Ides from being sold in over 5,000 stores across the country. Ice Cube stepped in and tried to make amends w/ an apology in February of 1992, and both the ban and the boycott were lifted. Relations seemed better, but a little more then a month later, it all went to hell.
Next: Loop 4 - Stakes is High 1992-2001
Previously:
Loop 1

Babylon is Burning 1968-1977
Loop 2

Planet Rock 1975-1986
More:
Jeff Chang's blog
Novel Soundtracks is intended as a soundtrack for a novel/book that is being read and can also serve on it's own as a music playlist. Songs referenced in the book are put into a playlist.
Previous Novel Soundtracks:
Novel Soundtrack: Kafka On The Shore
(Murukami)
Novel Soundtracks: Killing Yourself To Live
(Klosterman)
Novel Soundtracks: Drive Like Hell
(Hudgens)
Novel Soundtracks: Fortress of Solitude
(Lethem)
James Frey's My Friend Leonard
Jonathon Lethem's

The Disappointment Artist
tags:
playlist
,
music
,
hip-hop
,
rap
,
public enemy
,
books
,
jeff chang
,
ice cube